Ottawa, Illinois is a small friendly city in north central Illinois bisected by two beautiful rivers abounding with exciting outdoor recreational activities. Ottawa's award-winning, vibrant, stunningly attractive and historic downtown is full of unique shopping, dining and festival experiences. All of this and more makes Ottawa a great place to visit.
But Ottawa is also an outstanding place to do business. Here's why: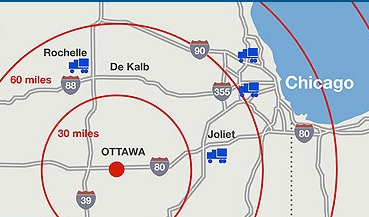 Ottawa is very close to the Chicago metropolitan area and its millions of residents. A ninety minute drive will put you into downtown Chicago. Yet Ottawa is a very different place. Ottawa remains free of the congestion, crime, environmental issues, expensive business regulations, intense government bureaucracy and more which all too often plague large urban areas.
Outstanding Transportation Options
Located on Interstate 80, the nation's premier east-west route, Ottawa is also just 12 miles from the intersection of I-80 with Interstate 39, one of the country's main north-south routes. Six major airports, including Chicago O'Hare and Midway Airports are within a 90 minute drive. The Illinois Valley Airport with its strong corporate aircraft capability, is only 18 miles away. Rail and Illinois Waterway transportation are immediately available. In fact, two thirds of the U.S. is within two days shipping range of Ottawa.
The Ottawa Industrial Park is Ready for Business Now
City of Ottawa owned lots complete with sewer, water, electric, gas, broadband, environmental sign-offs, rail, barge and more backed by an attractive incentive package – all just two miles from Interstate 80 are immediately available. Click here for the Ottawa Industrial Park details.
Interstate 80 Sites Available
Ottawa's Interstate corridor is a bustling commercial area with auto dealerships, major retail outlets, restaurants, manufacturers, hotels and more. Despite significant growth in this area, the good news is that attractive sites near Interstate 80 are still readily available. Click here for more information about Ottawa's Interstate 80 corridor.
An Amazing Quality of Life
Located at the confluence of two major rivers, the Illinois and the Fox, and just six miles from Starved Rock State Park, the most visited state park in Illinois, there really are a lot of things to do in Ottawa. Outdoor activities include boating, fishing, hiking, canoeing, kayaking, zip lining, sky diving, hunting and more. As the heart and soul of the Ottawa community is downtown Ottawa. Award-winning downtown Ottawa is beautifully streetscaped, historic and filled with unique shops and dining – with more on the way. Ottawa residents have access to strong public and private schools marked by especially good fine arts and STEM program. Ottawa benefits from high quality health care services headlined by OSF St. Elizabeth Medical Center, part of the OSF hospital healthcare system which is ranked in the top twenty percent of the nation's health care organizations.
To learn more information about beautiful downtown Ottawa, click here.
While a safe, green, uncongested city, Ottawa also stands out because of its exceedingly rare combination of amazing quality of life and great business opportunities. Please check Ottawa out.